CATSmart®
Continuous Autotransfusion System
Simply brilliant.
Brilliantly simple.
Presenting Fresenius Kabi CATSmart.
Ingenious continuous-flow processing technology that allows you to start quickly. Easy-to-use, OR-centered design that helps you operate smoothly. Consistent, high-quality packed red cells (PRC) that let you deliver confidently. Autotransfusion just got a whole lot simpler and smarter.
Refer to the operators manual or instructions for use for a full list of warnings and precautions associated with the device.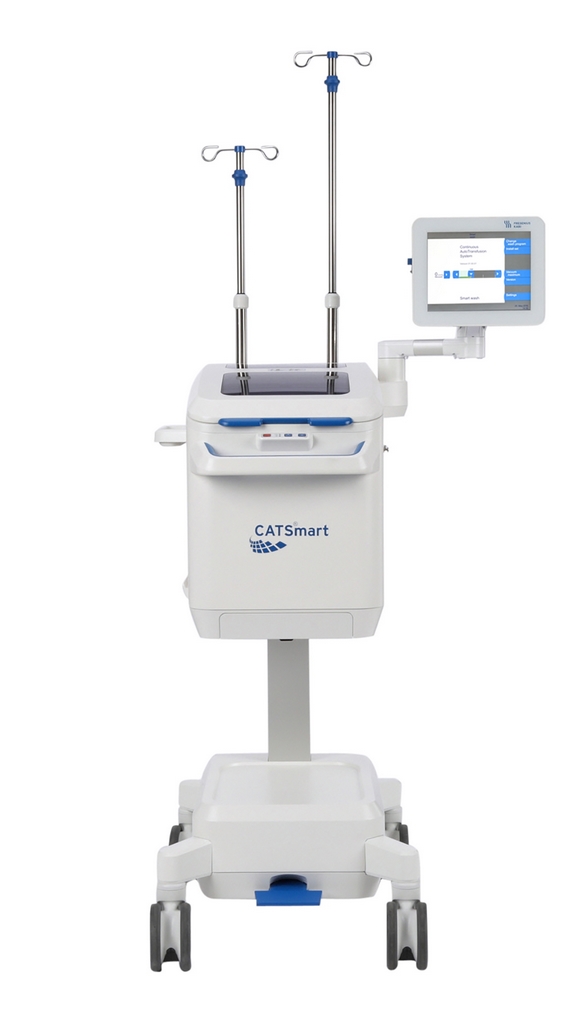 Made with you in mind.
Hear the people behind CATSmart talk about how its technology, design, and performance were driven from the needs of perfusionists like you.
Design
Light. Quiet. Flexible.
CATSmart has more than a fresh look — its features and functions take into account your workflow, work style, and work space.
Performance
High PRC quality.
Without tradeoffs.
CATSmart lets you deliver impressive hematocrit and washout rates on every program, for every patient.
Wash Program
Low Volume


200mL | 700mL

Flex


Factor 3 | Factor 5

Smart


1000mL

Emergency


1000mL

Average


 

Hematocrit
56 | 72
58 | 61
64
57
60
Non-emulsified fats
>99*
>99
>99
>99
>99
Heparin
>99*
>99
>99
>99
>99
Albumin
99 | 97
98
99
95
98
Proteins
98 | 97
98
99
94
97
Potassium
92
93
94
90
92
Hemolysis**
.15 | .06
.05
.04
.02
.07
Values above are %
* Starting volume was 400mL for Low Volume wash
** Values reflected immediately after processing
Data on file at Fresenius Kabi.
Collect on average

Remove on average more than

60

%

99

%

hematocrit (HCT)

non-emulsified fats

Data on file at Fresenius Kabi.
Technology
Continuous flow.
Fast PRC access.
At the heart of the CATSmart is our proprietary separation process. Unlike bowl-based systems, it ensures PRC is available when your patient needs it.
Data Management
Input and export.
At your fingertips.
CATSmart's USB interface and optional barcode scanner and matrix printer provide for fast, simple, and accurate data collection and transfer.

Schedule an evaluation.
Give your whole team a chance to work with CATSmart.

Distributed exclusively in the U.S. by Terumo Cardiovascular Group.

Stay Informed.
Sign up below to receive the latest
CATSmart news and updates.

Stop by for a visit.
Come see us at the Terumo booth and we'll walk you through CATSmart's features.
Documents
Need more info? Download it here.